More About Us
I have been a dog lover since childhood and have handled them professionally for over 30 years. In the mid-seventies and early 1980s I showed American Cocker Spaniels, which were wonderful pets, and three became AKC champions.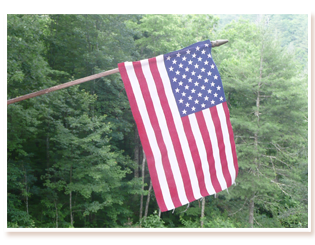 "Cracker" my homebred bi-centennial girl born on the 4th of July, 1976, was owner / breeder handled by me for much of her career and with limited showing was the fifth top winning parti-colored Cocker in the US in 1978. Throughout my years of showing and breeding dogs, I was a member of the Central Florida Kennel Club, and currently the Golden Retriever Club of America, Sandlapper Golden Retriever Club and Western Carolina Dog Fanciers Association, and have always been actively involved in educational, obedience and conformation programs. Several college genetics courses awakened my interest in planning and predicting the best possible pedigree crosses to produce healthy, intelligent and beautiful dogs, which has always been my goal, first with Cockers and now with Goldens.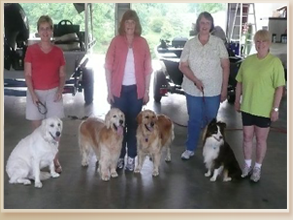 "Bravo for Pretty Pets" was a large well respected pet grooming shop in Orlando, FL, which I owned for many years. My employees and I competed at the International level in grooming competitions. We also taught basic obedience classes.
Another love of mine is REGAP, an organization dedicated to placing retired racing greyhounds in pet homes. Having owned one, I know what excellent pets they can be.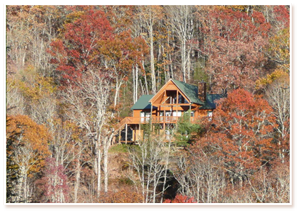 Upon retiring to Cashiers, in the Blue Ridge Mountains of western North Carolina, my husband, Robby, and I obtained two female Golden Retrievers, Cashie, Cashie Can't Hold Her Licker CD, BN, RN, CCA, CGC, OD and Maxie, Honor's Maximum Faire CD, BN, RN, CCA, and CGC.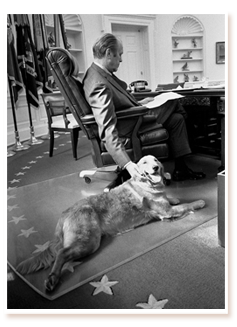 "Cashie" and "Maxie" came from Honor Golden Retrievers, the breeders of late-President Ford's famous Golden "Liberty."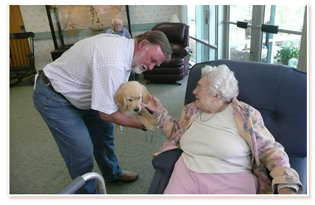 Purchased primarily to be healthy, loving companions our girls were immediately trained to be Certified Therapy Dogs and they do their volunteer work at the local hospital and free dental clinic. It truly is a Good Life for Goldens in the beautiful Blue Ridge Mountains of western North Carolina.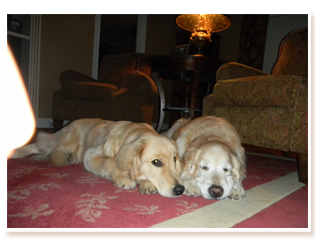 We initially chose to augment our family with a pup from Honor's Golden Retrievers primarily because they are known for the health and longevity of their dogs, and have been one of the top Golden breeders for several decades. Robby's last dog, a Keeshond, was healthy and active until the age of 22. We are selectively breeding and raising our Goldens with a similar goal in mind.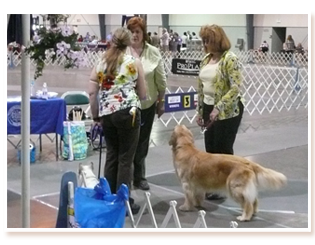 HonorGR consistently breeds and sells top quality Goldens with outstanding pedigrees for use as loving companions, Certified Therapy dogs and for competition in all AKC venues including Conformation, Rally, Obedience, Tracking and Hunting. Our first two, Cashie and Maxie, are all we had hoped they would be.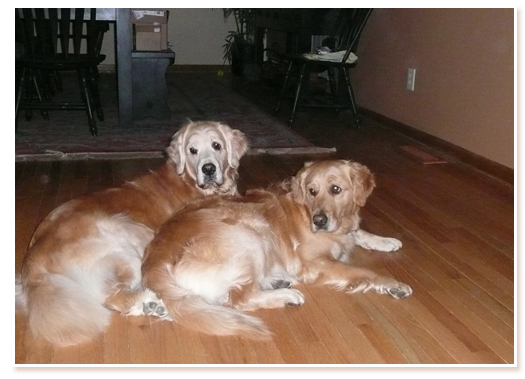 After obtaining all their health clearances we decided to breed our girls occasionally. We are, and plan to stay, a small kennel so that we may spend all the time we want enjoying our dogs and puppies. We find that we can properly breed, whelp, socialize and love one or possibly two litters a year.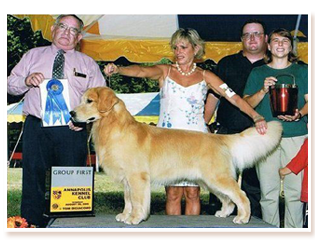 Each of the girls has had two litters sired by Ch. Gi-Ki's G'Wait Sock It To Em SDHF, OS (Saki), an outstanding looking and exceptionally sweet Golden in the Show Dog Hall of Fame and recently designated an outstanding sire. The Gi-Ki dogs are also known to be long-lived and healthy, and are very competitive in all the AKC venues. Pups are whelped in our master bathroom and live in the house until taken to their permanent home. In early 2014 we installed Puppy Cams in the master bath, where the puppies are whelped and kept until about three weeks of age, and the dining room where they stay in a large exercise pen (exercise outside) until they go to their forever homes. Owners-to-be enjoy watching their pup from the day of birth until it is picked up.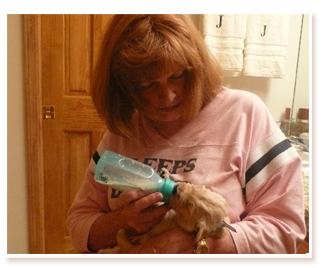 Our secluded property is a fun and safe place for the puppies to romp once they are old enough to spend some time outside each day. We devote a great deal of time to watching and handling the pups from the moment they are born. Our grandchildren as well as friends' childen make sure all the puppies are "kid friendly" and all are invited to play with them on a regular basis. We know that their first few weeks are crucially important to developing their full potential so we try to expose them to as many different people and situations as possible.
As a Master Groomer I know the importance of introducing puppies to grooming early on. While they are still nursing (or in this case drinking from a baby bottle) their nails are clipped and ears cleaned weekly.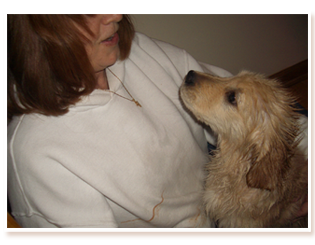 They are brushed, bathed and dried with a blower dryer beginning around five weeks of age. Their pads and ears are trimmed. Pups are played with and given treats while learning the grooming process, and enjoy it; leaving home "a groomer's dream client" and a pleasure for the owners to maintain.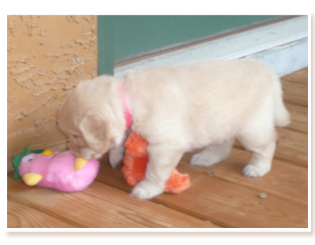 Starting at approximately four weeks of age we separate one puppy at a time from the rest of the litter, and Mom, for short periods of time several days each day. The puppy is placed in a shower or large crate with toys and treats. This has proven to be 100% successful in preventing separation anxiety when the puppy leaves our home. Around the same age we begin taking a couple of puppies at a time for short car rides. As we live in the mountains, this helps avoid car sickness on future trips, and puppies going to live as far away as South FL or CO" add IA have traveled to their new home without incident.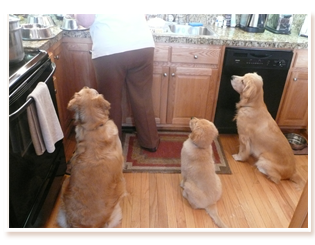 Even our five or six week old puppies respond to "Puppy come!" as that's what they hear when meals are served. (Which, by the way, is a combination of fresh raw venison, salmon, duck, beef and chicken, plus fruits and vegetables, as well as a top holistic brand kibble.)
The adults set a good example and participate in training the kids!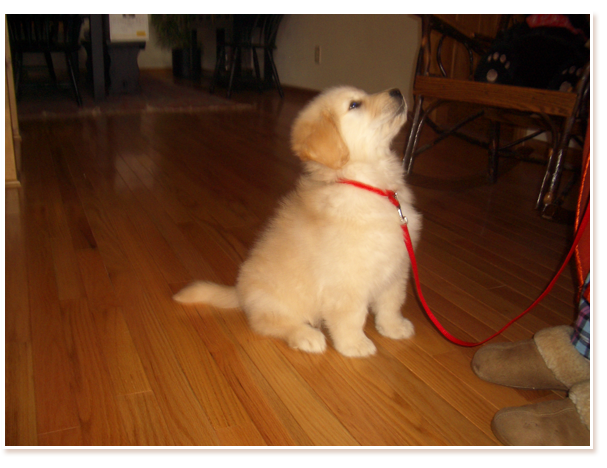 They are also leash trained and at least somewhat potty trained before leaving us to go to their forever home. Sitting, staying and some tricks might have also been taught depending on the age they leave.
At seven weeks of age puppies are personality tested to assure a proper fit with their new owner.
For those interested in obtaining a Good Life Golden, please see our Contact Us and Application Process webpages. Upon approval for adoption, and our receipt of your deposit, a very thorough Puppy Manual complete with pictures of your puppy (beginning at birth), will be provided to you.
Thank you for your interest in Good Life Goldens.
Jeannie Cahill