Below is Cashie's litter from 2012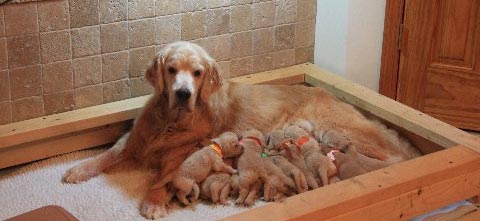 Having been told by a reproduction specialist that Cashie was having three pups (possibly 2 - 5) I've been referring people to other breeders. Surprise, surprise I found out she was having at least nine and as it turned out she had even more! Mom and kids are all doing well. Contact us for more information on availability.
Cashie three hours before the first pup was whelped.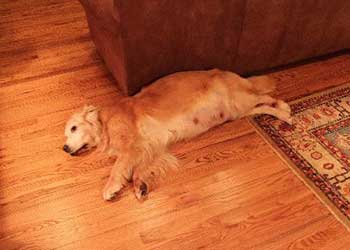 Tired momma the next morning with her seven boys and five girls = a DOZEN babies! Congratulations daddy, Ch. Tucker The Remarkable, CD (Tucker) owned by Barry & Wendy Messer.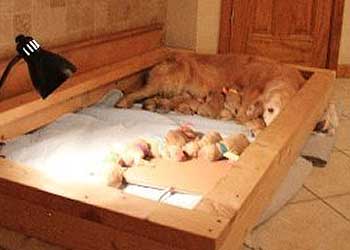 Proud momma!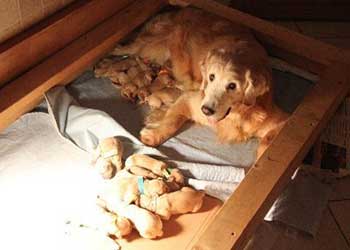 ---
The sire of the litter is Ch. Fallchase Tucker The Remarkable, CD and below are pictures of him starting as a four month old puppy. We expect this breeding to produce really exceptional puppies!
Cashie Can't Hold Her Licker (AKC champion pointed) RN, CCA, CGC and Certified Therapy Dog was bred in mid-November, 2011 to Ch. Fallchase Tucker The Remarkable, CD. Cashie produced a champion in her first litter (born June 2009) and two show prospects in her second litter (born July 2011). But, more importantly, all of her puppies are sweet, healthy, beautiful family companions!
Tucker has sired four litters to date and two of the pups are already champions. He is also the full uncle to the 2011 AKC #1 Golden Retriever (all systems), Ch. Gemini's Fallchase The Butler Did It, whose dam is Tucker's littermate.
Tucker as a four month old puppy.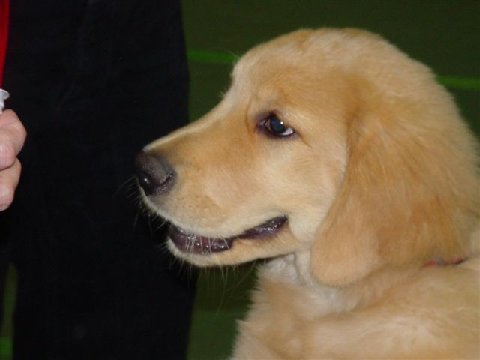 CH Fallchase Tucker The Remarkable CD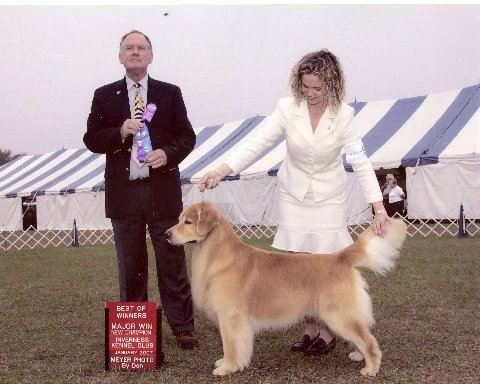 Tucker relaxing at home.